FolkCharm is an ethical enterprise that partners with natural cotton farmers, artisanal communities and local craftswomen to present apparels and products with the right blend of contemporary living and traditional wisdom. Our textile is known for its hand-spun yarn, handloom process and local techniques of natural dyeing. The 100% locally sourced chemical-free and organic cotton also comes with great benefits of gentleness to skin, natural comfort. 50% from our sales goes directly back to makers, we upcycle our off-cut fabric into new products, and 90% of our packaging is recycled or biodegradable.
Registered as a Company Limited in February 2016, we now work with about 40 home-based women workers, including cotton farmers, cotton yarn spinners and weavers in Loei Province as well as home-based women tailors, seamstresses and craftswomen in Bangkapi District of Bangkok, from just 5 weavers and 2 tailors in 2014. Together with these inspiring women, we create unique pieces of carefully crafted items from organic and natural materials. ​Through our products, we wish to increase awareness in traditional crafts, slow fashion and extend the community of conscious consumers and the appreciation of traditional crafts.
Folkcharm is founded by Passawee T. Kodaka, a development practitioner of over seven years with passion in creative economy and the promotion of traditional crafts.
Ethical • Respecting Crafts(wo)manship: Our products are crafted by rural communities where we work together with them under an honest cost-structure. In return for their work our artisans receive return for their skills and techniques, rather than settling for the 'amount sellable' where loss is often the case. The three core values of our work are:
Fairness

: Fair financial return for livelihood. Fair to the environment. Fair to their health.

Mutual Interest

: Ensuring the understanding of our business model that we are not a non-profit, emphasizing that    their continued quality work has a direct impact on our enterprise's sustainability which, in return, provide them lasting income.

Opportunities

: No interest loans (through provision of tools and materials) for those who lack capital to get started. Providing support on capacity building and design development. Awareness of access to market. Growing together through trial and error.
Local • Appreciating the weaving techniques that have been passed on many generations for hundreds of years. Respecting their rural way of life, the interpretation of time and agricultural livelihood.
Natural • With consideration for the environment of cultivated lands as well as our urban surroundings, we try to use as much as possible natural chemical-free materials and as little as possible man-made materials that may bother nature. More importantly, our products being made from 100% natural, locally sourced cotton comes with great benefits in softness, chemical-free, great comfort, easy wash-easy dry. Perfect as apparels and things we are regularly in contact with everyday.

Simplicity : we are 'simple' in design yet abundant in functions. We apply the concept on how products from cotton has been used for generations in to inspire ours. To create products for everyday living while seeking inspirations from our surroundings and our busy urban routines, trying to find the right blend of contemporary living and local techniques of cotton production and weaving.
Quality : ensuring quality in the entire process is our top priority. This means that we pay attention to every details, from farming of natural cotton, ginning, weaving, tailoring and finishing. We also use high quality muslin and unbleached 100% cotton linings, wooden buttons, and premium metal accessory parts on all our apparels, bags and accessories.
Least Waste Possible! we make sure that even the smallest pieces of remaining textile from tailoring is used. We apply modern handicraft techniques of quilting, patchwork, and hand-stitching to create new daily use products.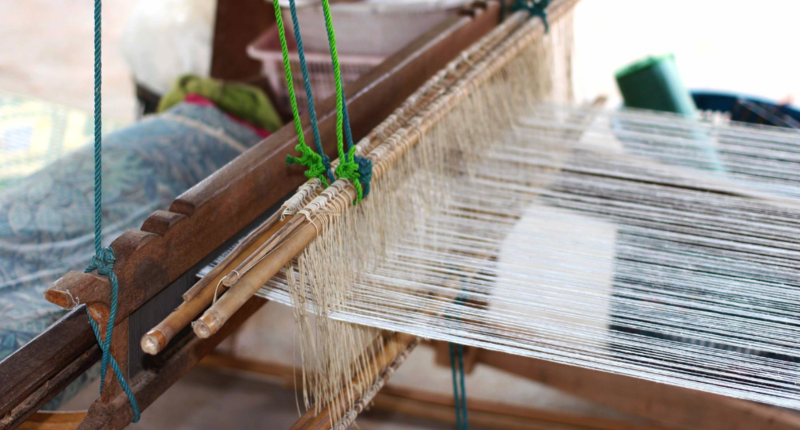 Folkcharm Studio in Bangkok

Folkcharm studio in Bangkok is our creative space and showroom. The design is inspired by a simple rural home's architecture. The wooden cabin, furnitures, and shelves are built with reused wood and construction materials. We also conduct natural dye workshops and activities here. It is located on Ramkamheang Road. If you are in town and would like to learn more about our cotton journey, feel free to give us a visit. We are opened 10.30 ~ 17.00 Monday ~ Friday, except holidays, but please email us at hello@folkcharm.com before coming to make sure we are in as we often have events outside. Weekends are also welcomed but please also make an appointment. Click here to our location.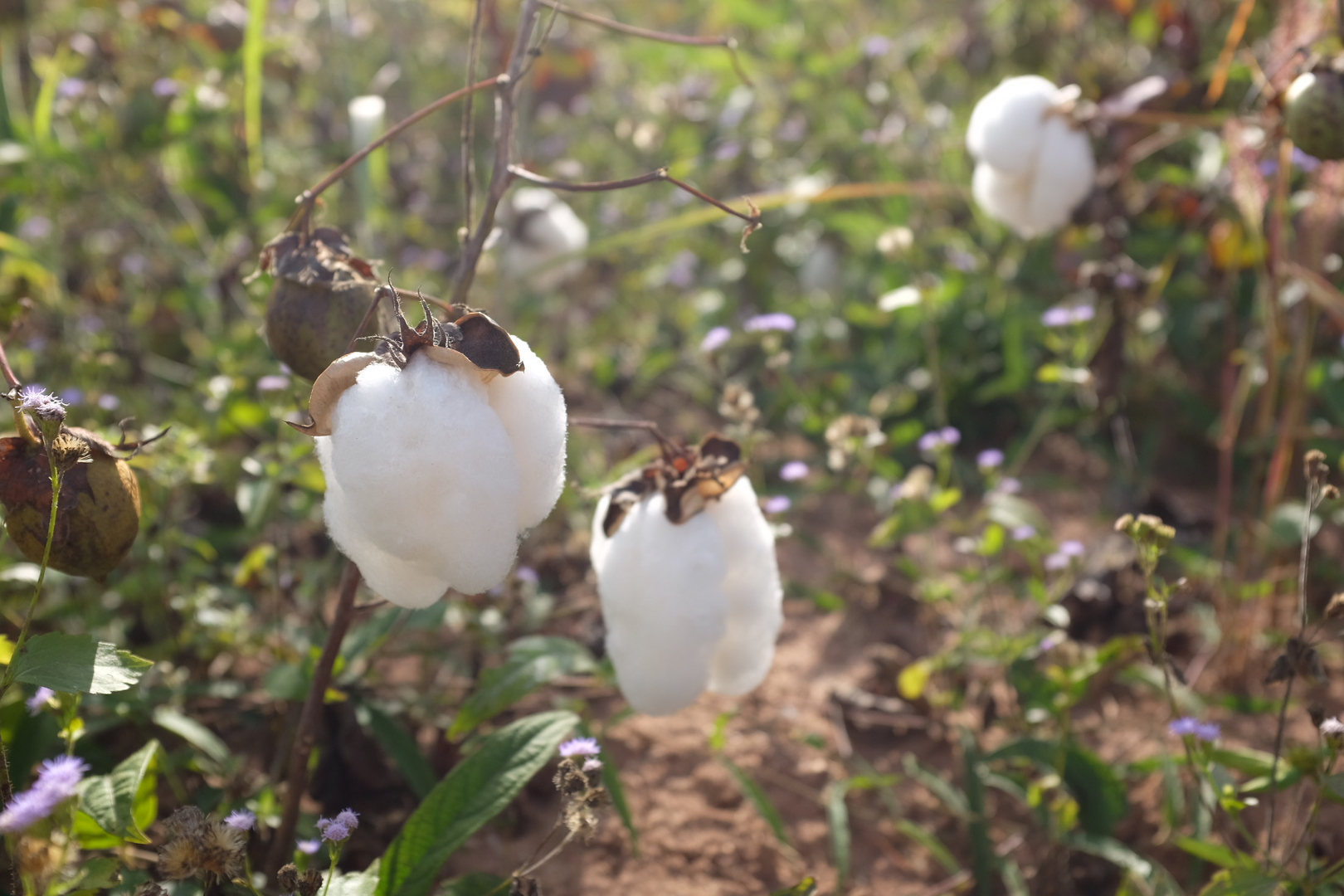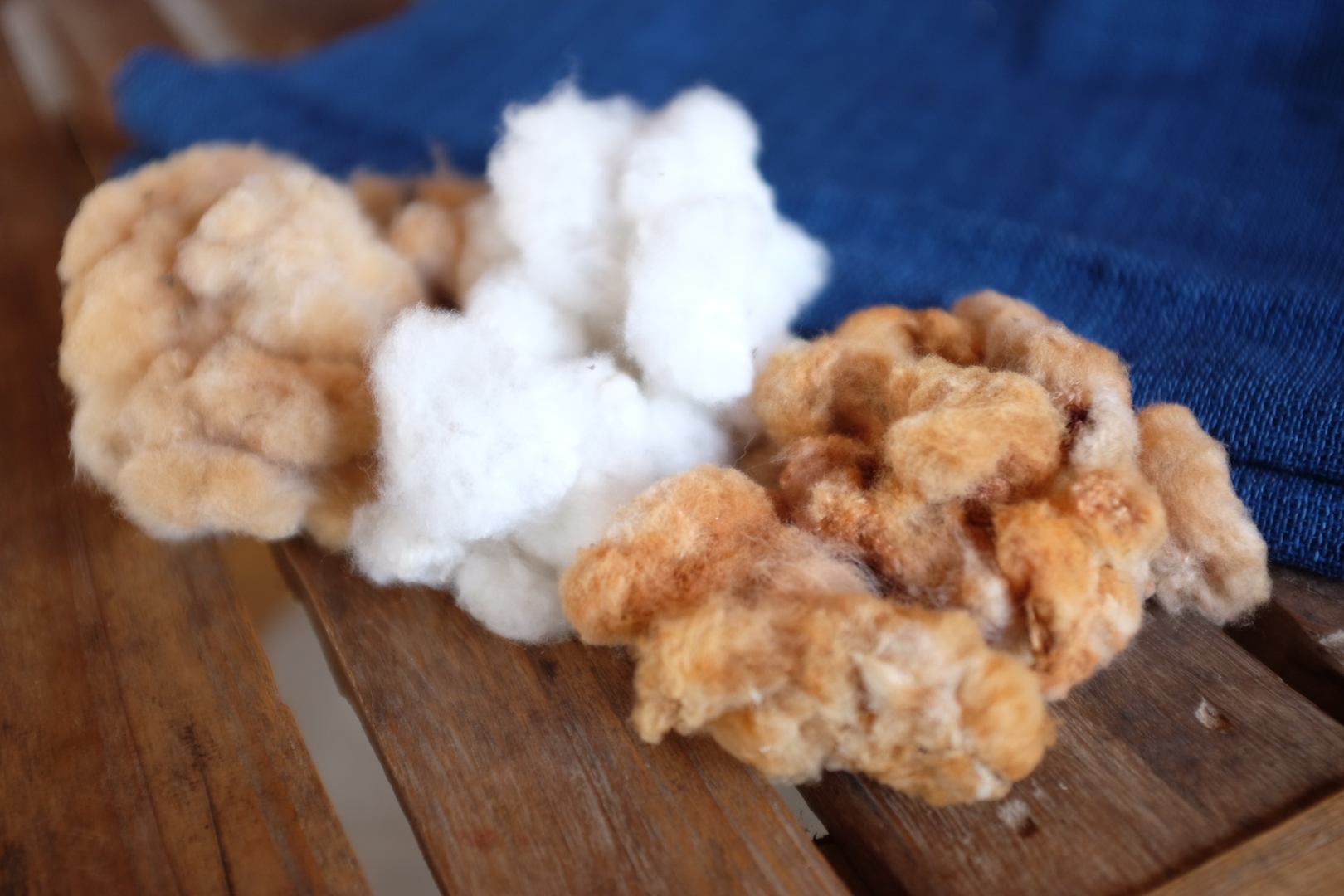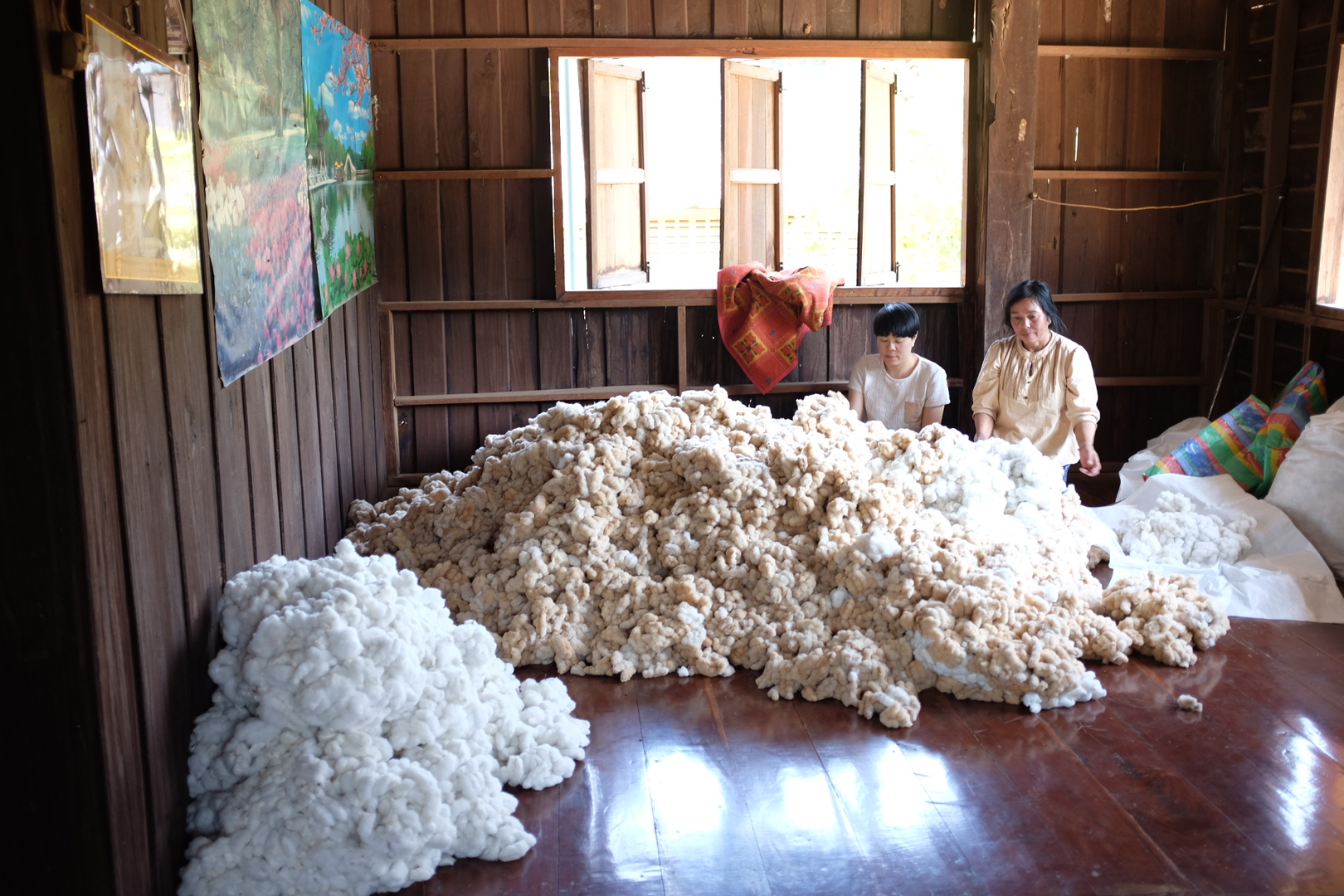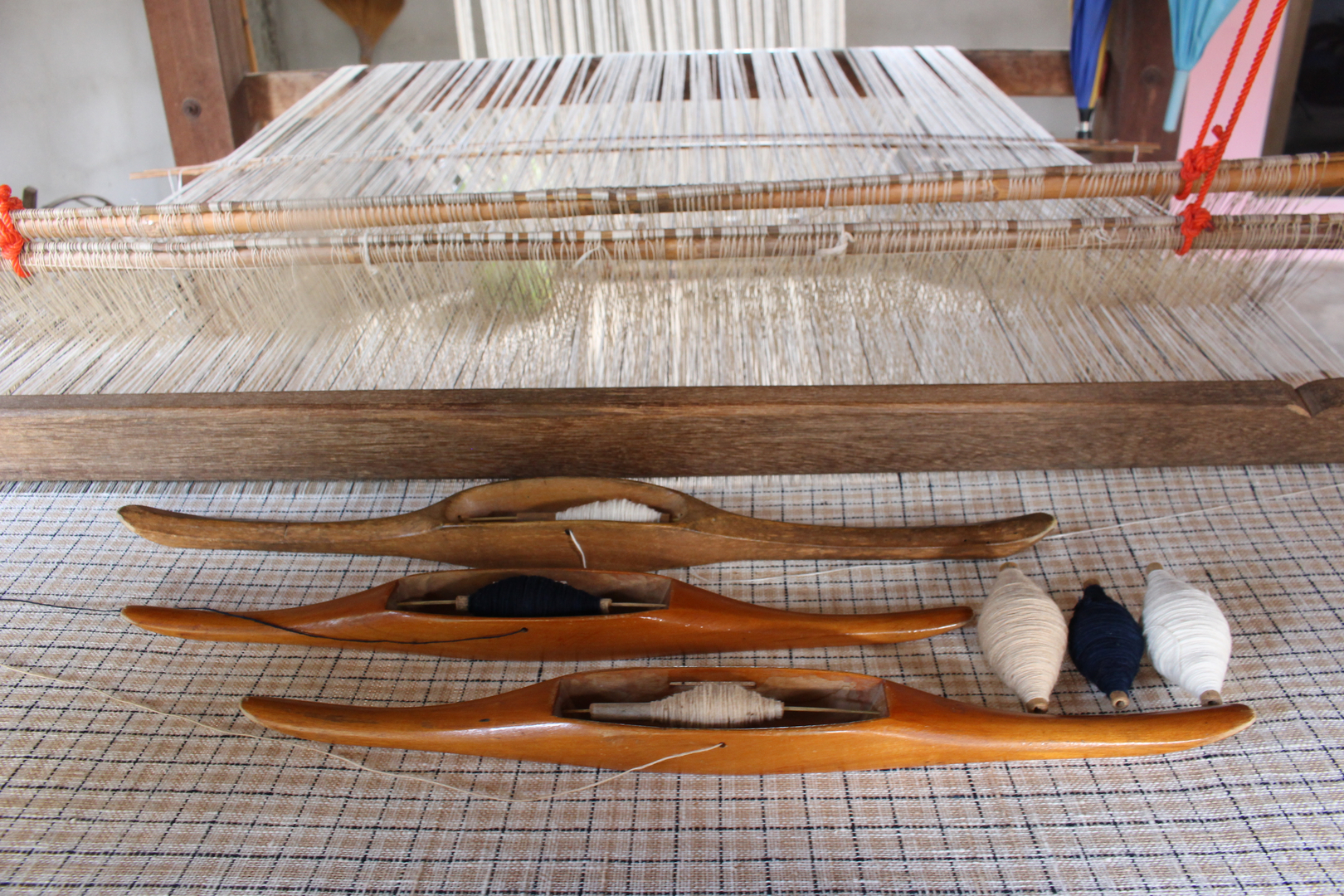 Folkcharm's apparels and lifestyle items are not only kind and fair to the farmers, weavers, makers and the environment, they are more importantly kind to the users. Key features of our products are the pure chemical-free hand-spun cotton yarns, traditional method of handloom weaving and detailed tailoring for optimum gentleness to skin and comfort.
Our yarns are 100% natural chemical free Thai cotton. While maintaining the traditional techniques of hand-processed cotton yarn and hand-weaving, we use Grennet's Organic Certified Fair trade yarns as warp to strengthen the textile. The weft is locally grown handspun yarns, giving a unique texture and fluff for softness. To create patterns, local natural plant dyes, such as 'Buak' indigo, wild ebony seeds, beetle nuts, anatto, barks and tree leaves are used.
Back in Bangkok, we encourage home-based tailors, seamstresses and craftswomen of various skill levels, expertise and interest to meet Folkcharm's standards by providing rewarding income, promotion of creativity and flexibility in working. Our items are 'co-designed' with the team and is a back-and-forth process until the design and method are satisfactory to both us and the makers. Click to our detailed cotton story in Thai Language.
100% Natural Homegrown Rain-fed Cotton
Use Locally Found Natural Dyes with Non-chemical Mordants
Hand-processed and Slow-made by Home-based Artisans