Our Cotton Journey
Folkcharm's apparels and lifestyle items are not only kind and fair to the farmers, weavers, makers and the environment, they are more importantly kind to the users. Key features of our products are the pure chemical-free hand-spun cotton yarns, traditional method of handloom weaving and detailed tailoring for optimum gentleness to skin and comfort.
Our yarns are 100% natural chemical free Thai cotton. While maintaining the traditional techniques of hand-processed cotton yarn and hand-weaving, we use Grennet's Organic Certified Fair trade yarns as warp to strengthen the textile. The weft is locally grown handspun yarns, giving a unique texture and fluff for softness. To create patterns, local natural plant dyes, such as 'Buak' indigo, wild ebony seeds, beetle nuts, anatto, barks and tree leaves are used.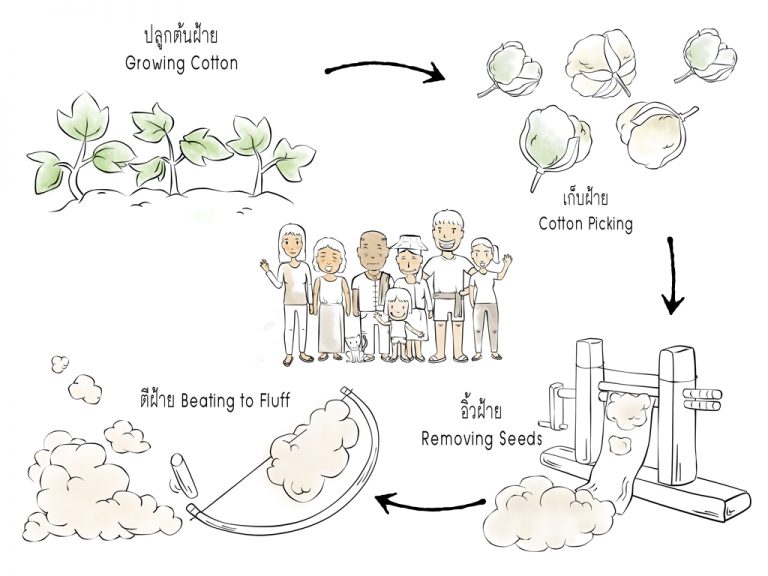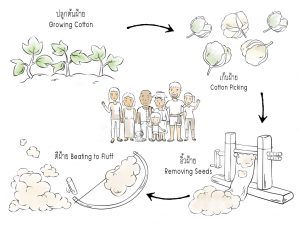 Back in Bangkok, we encourage home-based tailors, seamstresses and craftswomen of various skill levels, expertise and interest to meet Folkcharm's standards by providing rewarding income, promotion of creativity and flexibility in working. Our items are 'co-designed' with the team and is a back-and-forth process until the design and method are satisfactory to both us and the makers.